Why impact measures lacking measures of uncertainty,
hide large errors
making them scientifically undefined as physical measures and highly misleading
There's been a longstanding quandary in sustainability science about how to count the untraceable direct impacts on the environmental of business operations. The consensus was to ignore them, as it could seem the were counted in someone else's impact budget as traceable impacts. the of course hugely biases the decision making of a business to be unaware of the scale of its purchased "outsourced" impacts that the world accounting method assigns to someone else...
So, for the measures of individual impacts the problem of how to estimate the impacts of its purchases of services that go uncounted has just been ignored, appearing to be a necessity. Unaware that ignoring the individually untraceable portion of business impacts would make impact measures scientifically indefinable, and so not valid as physical measures. What it's been hiding are errors in impact estimates on the scale of 80% or more (basic findings).
I'm the systems scientist who got to the bottom of it, starting with a way to give environmental impact measures a well-defined uncertainty, and demonstrating a practical method using currently available data to generally apply it to sustainable design problems. In the figure below, to use impact measures accurately to compare "before & after" for example, and also be sure of accounting for the Observed world of impacts 'A' , an accounting estimate for the Likely total as a share of the world total 'B' needs to be compared with the Traceable impacts total 'C'.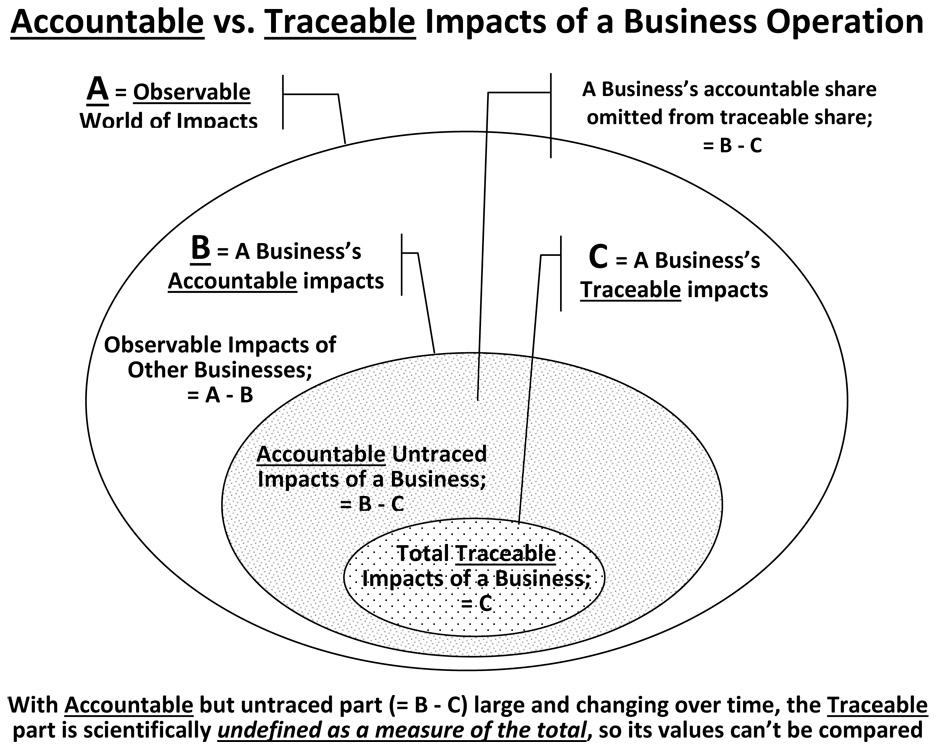 Without a way to estimate the untraceable part of the impacts attributable to a business that creates the demand for them by employing them to operate, enormous errors are made, often to "outsource" more and more impacts that won't get counted... thinking of it as a sustainability plan. Using the small directly traceable part is simply invalid as an indicator of the total.
If the numbers aren't right the decisions won't be
For sustainability our requirement is to "work with nature", not to mismeasure nature to improve "the bottom line" using ill-defined measures. It's really long past time to talk about how to define our units of measure, and the scientific implications. More accurate and truthful measures both greatly simplify some parts of the larger problem, and change some of the terms of discussion… (with what is also an extremely cool bit of useful hard science) pointing us in the right direction.
___________
Other scientific principles for connecting numbers to reality are in the sections 1.2, 4.1, 2, 3 & 4 and 5 in the paper. Here are three:
What you want to know is who pays for impacts, as their cause, not where they are produced. It's controversial but also unavoidably true that it's generally paying for things that causes their environmental impacts. Theoretically money is just a symbol, but it has value because we use it to make requests, using its property of being a reliable unit of credit for whatever the world can produce, *at your request". It means that physical causation in economies "follows the money" as the demand for services that money conveys, as credit information.

Converting money into a well defined "soft measure" of total environmental impacts is then made possible by recognizing that the economy is a truly global system of interconnected and interdependent parts. That makes the correct starting point for estimating a business's share of the economy's total impacts, environmentally, is its share of the total economy, financially. This holds up wonderfully on closer inspection, once you start counting the environmental impacts of all the business services requested by paying for them. That is the part of the total that most people have ignored so far, not thinking of business impacts as including what it takes to deliver business services.

Taxes and Tariffs might be assessed on the total impacts that businesses pay for, or only for the impacts of the value added to business products, assuming all other businesses are paying their share too, to eliminate double payment of impact taxes or tariffs. Taxes might also be assessed even more simply to consumer demand, as a share of GDP and global demand for the impacts of the economy. The revenue would be the same, and the problem of deciding what to do with it the same, but I think businesses would understand the business choices better, and consumers the cultural value choices better, and so impact taxes would be more useful if applied to producers rather than consumers.
It's highly valuable to find dangerous mistakes that are correctible.
6/26/13 6/27